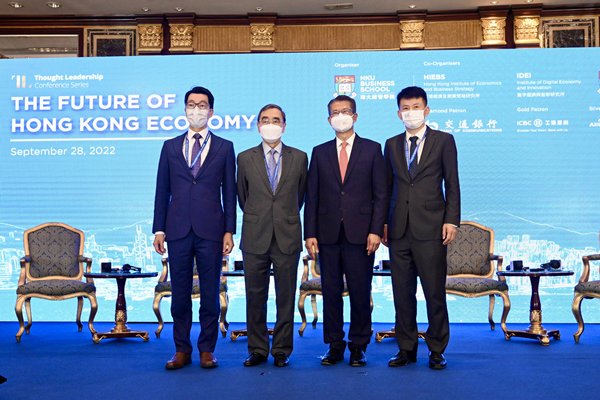 Speaking of Hong Kong's economy, to begin with, let's get a fair appraisal of the short-term condition. Over the past few years, Hong Kong has been fraught with tremendous challenges, and this year has been no different.
The global economy has deteriorated - and sharply. Pandemic-induced supply-chain disruptions and the Russia-Ukraine conflict have resulted in soaring energy and commodity prices. There is rising inflation in advanced economies like the US, the UK and the Euro area to levels not seen for decades, which central banks must curb through tightening monetary policies.
Earlier this month, the World Bank warned that more aggressive acts to curb inflation may further drag global economic growth to 0.5% only in 2023, and cautioned that a global recession is highly probable.
Hong Kong is a small and open economy that heavily relies on our connection with the Mainland and the international world. With connectivity having yet resumed normal and a worsening external environment, negative growth for this year seems unavoidable.
Gloomy though it sounds, we need not be afraid of the downbeat outlook. Over the past 25 years since Hong Kong's return to the motherland, we have faced numerous challenges time and again. We weathered the Asian Financial Crisis in 1998, the burst of the IT bubble in 2000, the SARS epidemic in 2003, the global financial tsunami in 2008, and more recently, the black-clad violence in 2019.
Thanks to our resilience, and a host of singular advantages, we have always come through them stronger and surer of ourselves - and the way forward.
And we have got the assurance from the central government. President Xi Jinping, speaking at the 25th anniversary of the establishment of the Hong Kong Special Administrative Region, told a world audience that the "one country, two systems" principle is to be adhered to in the long run. He also stressed that Hong Kong's distinctive status and advantages must be maintained. The central government fully supports Hong Kong to enhance its presence as an international financial, shipping and trading centre.
This, however, does not mean that Hong Kong's economic future will be sailing smooth all the way. As alluded to in my speech at this conference last year, escalating tensions in China-US relations would inevitably affect Hong Kong. Today, that they may cast shadows on our economic positioning and even cause disruptions is all the more probable. We must recognise that in a world that is experiencing a once-in-a-century great global change, life could be very challenging.
But change also creates opportunities. Our response is to embrace it, and edge our way forward carefully seeking to turn risks into opportunities.
And our role must be proactive and catalytic. As President Xi has reminded us, we need to transform concepts of governance, and rethink the relationship between the Government and the market so as to optimise the benefits of an efficient market.
Speaking at this conference last year, I highlighted the Government's recognition of the importance of innovation and technology, I&T, and that Hong Kong would play a central role in the rise of the Guangdong-Hong Kong-Macao Greater Bay Area as an international I&T hub. In particular, I asked one question: Which subsector would present the best potential for Hong Kong to develop into a rewarding industry? Here, please allow me to give some updates in respect of our heartening I&T development.
First, our research and development (R&D) infrastructure and capabilities have continued to expand. Take the InnoHK Research Clusters at the Hong Kong Science Park as an example. To date, they have attracted more than 30 world-class universities and research institutes. They are working with our local universities - the University of Hong Kong included, of course - and have set up 28 research laboratories in healthcare technologies, artificial intelligence and robotics.
Then, the Northern Metropolis, which will accelerate our collaboration with sister cities in the Greater Bay Area (GBA), particularly Shenzhen.
The San Tin Technopole will rise from the Northern Metropolis, forming an I&T cluster of about 240 hectares in San Tin and Lok Ma Chau. Together with the 300-hectare I&T zone on the Shenzhen side, the resulting Hong Kong-Shenzhen Innovation & Technology Park will feature a "one zone, two parks" development, combining Hong Kong's R&D strengths and Shenzhen's strong capabilities in commercialisation and advanced manufacturing. The Park is destined to become a world class I&T hub in the bay area.
Besides, fully recognising the potential of life and health technology in Hong Kong, in this year's Budget I have earmarked $10 billion to attract talent, and to provide hardware, clinical trials and data application support to research institutions to enhance their capacity and capability in this field.
To further enrich the I&T ecosystem, in this year's Budget we have set aside another $10 billion to the Hong Kong Growth Portfolio, which is for investment in projects that would enhance the competitiveness of Hong Kong in the longer term. $5 billion thereof is for setting up a Strategic Tech Fund to invest in technology enterprises that are of strategic value to Hong Kong. Another $5 billion would be used to set up a GBA Investment Fund, focusing on investment opportunities in the bay area that would benefit Hong Kong. That of course includes I&T opportunities.
To further facilitate funding support for technology companies, and considering that some large-scale advanced technology enterprises require substantial capital for their research and development work but are not qualified for listing yet, the Securities & Futures Commission and the Hong Kong Stock Exchange (HKEX) are reviewing the Main Board Listing Rules and examining the revision of the listing requirements to meet the fundraising needs of such enterprises. HKEX is now approaching different stakeholders for views, so as to put forward concrete recommendations as soon as practicable.
And above all, the Government is putting together a strategic plan for the development of Hong Kong's I&T sector over the next five to 10 years. Call it Hong Kong's high-tech road map to the future.
I could envisage that the plan should address a number of important questions, such as how to promote cross-disciplinary and cross-jurisdictional collaboration among the government, industry, academic and R&D sectors; how to better connect upstream research and downstream industries and markets by encouraging adoption and competitiveness of technological outcomes; and what should be done more to continuously support a strong I&T ecosystem.
Meanwhile, Hong Kong's prospects as China's international financial centre, and as the bridge and premier services platform between the Mainland and the world, remain highly promising. One important direction in the coming year is further enhancing Hong Kong as an offshore renminbi (RMB) centre by offering more diverse services and RMB-denominated investment and risk management tools, and upgrading our market infrastructure, thereby contributing to the internationalisation of RMB.
Of much relevance too, is Hong Kong's unique role in deepening the opening up of the Mainland's financial markets. Over the past few years, various connect schemes have allowed international institutional investors to take part in the capital markets of the Mainland through Hong Kong and vice versa. The initiatives recently announced by the China Securities Regulatory Commission covering Swap Connect, ETF Connect, inclusion of securities of overseas enterprises listed in Hong Kong for Southbound Trading, setting up an RMB securities trading counter, and issuance of Mainland government bond futures, are just new additions to the list. We will continue to expand and enrich the connect schemes to provide investors with more investment opportunities and risk management tools.
Separately, we will continue to adopt a multi-pronged strategy to promote green and sustainable finance, providing the necessary infrastructure and catalysts, channelling international capital to fund the Mainland's green projects and climate initiatives. Green and sustainable debts issued in Hong Kong quadrupled last year to over US$56 billion, making us number one in Asia, and we are, in many ways, setting the benchmark for green finance. For example, we were the first Asian government to issue 30-year and 20-year green bonds denominated in USD and Euro respectively. A few months ago, we issued retail green bond of HK$20 billion, which is the largest issue of its type globally.
Currently, we are also exploring the proposition of developing Hong Kong into a voluntary carbon exchange centre in the region.
Then, Hong Kong will continue to develop as an asset and wealth management centre. We have achieved remarkable success, with assets under management equivalent to around 12 times of our gross domestic product, around two-thirds of which were from outside Hong Kong. We are also the largest hedge fund centre and the second largest private equity centre in Asia. The next step is to introduce more facilitation and tax measures for attracting the establishment of family offices in Hong Kong.
Meanwhile, we will continue to reinforce our core capabilities as a premier fund-raising platform, through continuously enhancing our listing regime, promoting the development of our bond market and much else. We will also continue to drive the development of fintech to transform the industry and open up new frontiers for development.
Together, the above initiatives would further enhance our competitiveness, create new businesses and stimulate economic growth, by which our financial and other professional services are destined to thrive and prosper.
The lasting COVID-19 pandemic has fundamentally changed the way we live, communicate and conduct business. Digitalisation of activities has spawned new business models and tremendous business opportunities, while at the same time brought regulatory and governance challenges.
Hong Kong must embrace the trend of digitalisation. This is why we have set up a Digital Economic Development Committee to set directions and strategies on our digital economy, and look into such themes as cross-boundary data flow, digital infrastructure, digital transformation and talent development.
Beyond financial services, I&T and the digital economy, let us not forget that the 14th National Five-Year Plan has also envisaged Hong Kong's other emerging roles, in particular as an international aviation hub and an East-meets-West centre for international cultural exchange. These are all areas with great prospects that Hong Kong should capitalise on. And the bay area, with its vast affluent consumer market, concentration of leading tech giants as well as advanced manufacturing capabilities, will continue to be our priority market and synergistic partner for future growth.
Last but not least, if I may return to the key constraints that have impeded Hong Kong's economic development and competitiveness, ie land supply and talent. Rest assured, we are determined to turn things around.
Since assuming office, the new-term Government has put land and housing supply as one of our top priorities. We have formed two groups focusing on expediting land and housing development, through improving efficiency, enhancing effectives and increasing quantity. Action plans have been drawn up to resolve bottlenecks and expedite related processes to increase land and housing supply, unleashing the potential for economic development.
As for talent, I am sure you have all heard that we will roll out bold measures to attract high-quality talent to come to Hong Kong. But let me add that we are also conscious of the short supply of labourers, which are also a cornerstone of our workforce. We are working on that as well.
So, looking at the directions we are heading and the work done, we remain highly optimistic about our future. And if I were a betting man, I would bet the future on Hong Kong.
Financial Secretary Paul Chan gave these remarks at the Thought Leadership Conference on The Future of Hong Kong Economy organised by the University of Hong Kong Business School on September 28.
---
PREVIOUS
NEXT